About Cookery
Love cooking for friends and family? Never miss an episode of MasterChef? If the kitchen is your happy place, consider a career in culinary arts. Ignite Colleges' unique cookery programmes will take you from enthusiastic cook to chef extraordinaire. New Zealand is facing a huge shortage of trained chefs, so you'll be in hot demand with employers. What are you waiting for? Unlock your inner Jamie Oliver and whisk your way to a brighter future.
Cookery Programmes
Intakes:

11 July 2022, 15 August 2022, 19 September 2022, 24 October 2022

Love food? Whip up a new career at Ignite Colleges' recently-opened cookery school. Learn from top chefs in brand-new commercial kitchens, gain skills the cookery industry urgently needs, and build real industry experience with an internship.

Learn more

Intakes:

11 July 2022, 15 August 2022, 19 September 2022, 24 October 2022

Already a whiz in the kitchen? Turn your talent into a career with our Level 4 culinary arts programme. Gain hands-on training in our state-of-the-art commercial kitchens and learn innovative culinary skills from top chefs. Plus, you'll graduate with real work experience thanks to our unique internship programme.

Learn more

Intakes:

11 July 2022, 15 August 2022, 19 September 2022, 24 October 2022

Serious about becoming a world-class chef? Our International Diploma in Culinary Arts is the perfect recipe for success. Learn the latest culinary skills from Olympic chefs and secure an internship in a Michelin-star or award-winning restaurant – either in New Zealand or Spain! This revolutionary programme will set you apart and can launch your career not just here, but anywhere in the world.

Learn more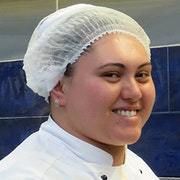 "I started studying at Ignite Colleges halfway through last year, gaining my Level 3 hospitality qualification before moving into cookery. I've actually been working in the hospitality industry for many years, and I have experience running my own kitchen and training staff – but I need to get my certificates so I can keep moving up in the industry. Currently I'm working full-time as a cook at the Weymouth Cosmopolitan and Sports Club. It's pretty full-on juggling work and study but I have my sights set on becoming a qualified chef. Once I'm qualified the pay will be better, plus there will be more opportunities to work and travel."
"I love studying cookery at Ignite. It's pretty intense but we are learning a lot. Yesterday for example, we cooked five different dishes including Israeli couscous, prawns, red Thai chicken curry and a fine couscous salad with lamb rump and green mint pea puree. The best part of all is you get to eat everything you make! During our 20-week Level 3 course we spend 15 weeks in the training kitchens and five weeks doing work experience. It's awesome. Every Tuesday we have carving classes with a world-class award-winning Taiwanese fruit and vegetable carver. We've already cooked at an Expo at the ASB Showgrounds and we are about to start in-house competitions to find out which students will get to compete in the NZ Hospitality Championships. There's lots of variety, lots of fun, and lots of hands-on training when you study cookery at Ignite Colleges."
"I'm definitely staying on here to gain my Level 4 and 5, and I'm going to take advantage of the Spanish internship opportunities that Ignite offers its cookery students. At the end of this year I'll spend 3 months living in Spain and working at a Michelin-starred restaurant there. I've never been out of New Zealand before and I can't wait to experience a new culture and learn new ways of cooking."
"Cookery is my passion and has been since I was about 12. I was brought up in a big family and we got taught how to make meals from whatever was in the cupboard. We had to get creative! Eventually I'd like to become a cookery tutor, giving families the skills to eat well on a budget and make the most out of what they already have in their kitchen. I'd also love to open my own café."
Angela Scrivener
Certificate in Culinary Arts Level 3
Enrol with Ignite
Applying to study with us is easy. Make an appointment with us or complete our enquiry form.